Conference and Training Centre
We have 9 conference rooms available, they will accommodate from a few to a few hundred people. Two of them are equipped with the foldable door which divide them into three smaller rooms. You can adapt the space and arrange chairs in a desired configuration in every room. The Centre is equipped with professional sound and multimedia systems simultaneous interpretation equipment can also be connected.
The Conference and Training Centre is a perfect place to organize all kinds of conferences, trainings, workshops and business meetings.
Every room has access to Wi-Fi.
The rooms may be easily adapted to individual needs by creating new configurations.
Price List for Renting the Premises of the Conference and Training Centre of GSTP -
Price List >
Rules and Regulations - PL >
--------------------------------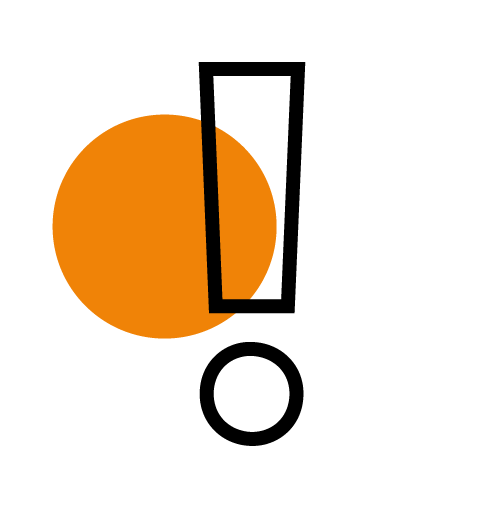 The new space rental price list will apply from April 1, 2023.
Price List from 01.04 - PL>
---------------------------------
Virtual tour - building C >
Virtual tour - building B >
*All prices are net prices, to which you must add VAT in the amount of 23%.
*The Gdańsk Science and Technology Park does not offer catering services, however on GSTP premises there is bistro which offers such services.
*The Gdańsk Science and Technology Park does not provide parking spaces for the meetings participants.
*Weekend (Sat., Sun.)
Booking calendar >
centrumkonferencyjne@strefa.gda.pl
Contact form >
Justyna Sterlingow-Miernik
58 740 42 32
+48 667 600 050
j.sterlingow@strefa.gda.pl
Marcin Pestka - technician
+48 601 670 004
m.pestka@strefa.gda.pl


Area 171 m2
Setting: theatrical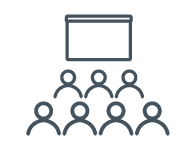 160 people | school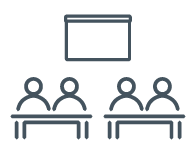 70 people | horseshoe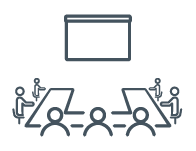 35 people
virtual tour >
Basic equipment:
professional sound system
2 projectors (the ability to display one image on two screens)
2 wireless microphones
laptop
flipchart
whiteboard
access to Wi-Fi networks
Possibility to divide the room completely or partially (into A, B, C, AB, BC):
Room A - area 59 m2 - equipment - details in the price list
setting: theatrical 20 people | school 16 people | horseshoe 10 people

Room B - area 58 m2 - equipment - details in the price list
setting: theatrical 40 people | school 25 people | horseshoe 20 people

Room C - area 56 m2 - equipment - details in the price list
setting: theatrical 40 people | school 25 people | horseshoe 20 people

Room AB - area 115 m2 - equipment - details in the price list
setting: theatrical 90 people | school 45 people | horseshoe 20 people

Room BC - area 112 m2 - equipment - details in the price list
setting: theatrical 90 people | school 50 people | horseshoe 2x20 people
Price List Room ABC
Price up to 4h - 600 PLN
Price per an additional hour (>4h) - 100 PLN
Price per day - 1000 PLN
Room A:
Price up to 4h - 350 PLN
Price per an additional hour (>4h) - 50 PLN
Price per day- 550 PLN
Room B:
Price up to 4h - 350 PLN
Price per an additional hour (>4h) - 50 PLN
Price per day - 550 PLN
Room C:
Price up to 4h - 350 PLN
Price per an additional hour (>4h) - 50 PLN
Price per day - 550 PLN
Room AB:
Price up to 4h - 450 PLN
Price per an additional hour (>4h) - 80 PLN
Price per day - 770 PLN
Room BC:
Price up to 4h - 450 PLN
Price per an additional hour (>4h) - 80 PLN
Price per day - 770 PLN
Price List >
Area 106 m2
Permanent setting
- rectangular table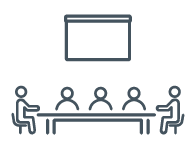 for 30 people
virtual tour >
Basic equipment:
projector
laptop
flipchart
access to Wi-Fi networks
Price List Room D
Price per 1h - 100 PLN
Price up to 4h - 350 PLN
Price per an additional hour (>4h) - 80 PLN
Price per day - 670 PLN
Price List >
Area 214 m2
Setting: theatrical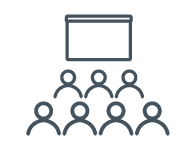 190 people | school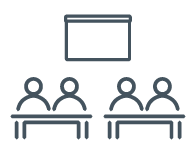 95 people | horseshoe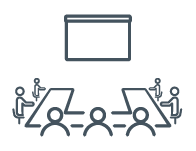 3x20 people
virtual tour >
Basic equipment:
professional sound system
3 laser projectors (the ability to display one image on two/three screens)
2 wireless microphones
laptop
flipchart
whiteboard
access to Wi-Fi networks
Possibility to divide the room completely or partially (into F, G, H, FG, GH):
Room F - area 71 m2 - equipment - details in the price list
setting: theatrical 60 people | school 30 people | horseshoe 20 people

Room G - area 70 m2 - equipment - details in the price list
setting: theatrical 70 people | school 30 people | horseshoe 20 people

Room H - area 70 m2 - equipment - details in the price list
setting: theatrical 70 people | school 30 people | horseshoe 20 people

Room FG - area141 m2 - equipment - details in the price list
setting: theatrical 120 people | school 60 people | horseshoe 2x20 people

Room GH - areaa 140 m2 - equipment - details in the price list
setting: theatrical 120 people | school 60 people | horseshoe 2x20 people
Price List Room FGH
Price up to 4h - 700 PLN
Price per an additional hour (>4h) - 100 PLN
Price per day - 1100 PLN
Room F:
Price up to 4h - 350 PLN
Price per an additional hour (>4h) - 50 PLN
Price per day - 550 PLN
Room G:
Price up to 4h - 350 PLN
Price per an additional hour (>4h) - 50 PLN
Price per day - 550 PLN
Room H:
Price up to 4h - 350 PLN
Price per an additional hour (>4h) - 50 PLN
Price per day - 550 PLN
Room FG:
Price up to 4h - 500 PLN
Price per an additional hour (>4h) - 80 PLN
Price per day - 820 PLN
Room GH:
Price up to 4h - 500 PLN
Price per an additional hour (>4h) - 80 PLN
Price per day - 820 PLN
Price List >
Area 22 m2
Permanent setting
- rectangular table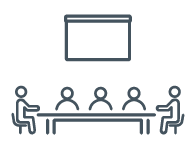 for 6 people
Basic equipment:
32" screen
access to Wi-Fi networks
Price List Room 2.14
Price per 1h - 35 PLN
Price up to 4h - 120PLN
Price per an additional hour (>4h) - 35 PLN
Price per day - 260 PLN
Price List >
Area 36 m2
Permanent setting
- rectangular table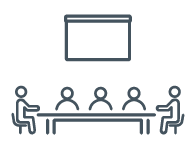 for 10 people
Basic equipment:
flipchart
projector
screen
access to Wi-Fi networks
Price List Room 2.15
Price per 1h - 40 PLN
Price up to 4h - 140 PLN
Price per an additional hour (>4h) - 40 PLN
Price per day - 300 PLN
Price List >
Area 90 m2
Setting: theatrical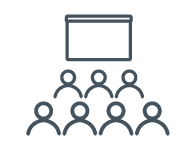 80 people | school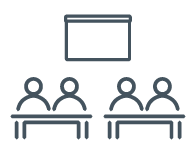 35 people | horseshoe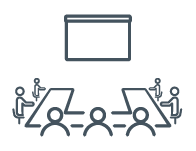 25 people
virtual tour >
Basic equipment:
professional sound system
projector
2 wireless microphones
laptop
flipchart
whiteboard
access to Wi-Fi networks
Price List Room 002
Price up to 4h - 350 PLN
Price per an additional hour (>4h) - 80 PLN
Price per day - 670 PLN
Price List >
Area 90 m2
Setting: theatrical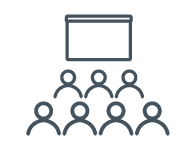 50 people | school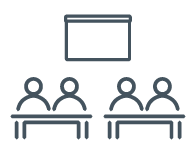 30 people | horseshoe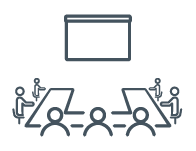 20 people
virtual tour >
Basic equipment:
laser projector
screan
flipchart
the possibility to use mobile equipment upon prior arrangement: a laptop, a presenter
access to Wi-Fi networks
Price List Room 010
Price up to 4h - 300 PLN
Price per an additional hour (>4h) - 70 PLN
Price per day - 580 PLN
Price List >
Area 30 m2
Setting: horseshoe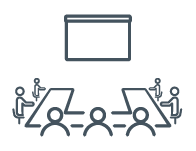 14 people | school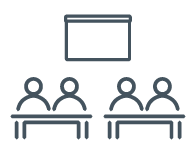 15 people
virtual tour >
Basic equipment:
projector
flipchart
access to Wi-Fi networks
Price List Room 129
Price per 1h - 50 PLN
Price up to 4h - 180 PLN
Price per an additional hour (>4h) - 50 PLN
Price per day - 380 PLN
Price List >
Area 54 m2
Setting: horseshoe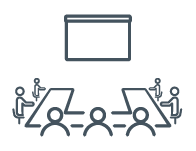 17 people | school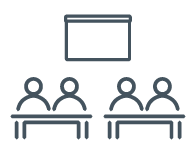 21 people
virtual tour >
Basic equipment:
projector
flipchart
access to Wi-Fi networks
Price List Room 330
Price per 1h - 70 PLN
Price up to 4h - 250 PLN
Price per an additional hour (>4h) - 60 PLN
Price per day - 490 PLN
Price List >